UPDATE: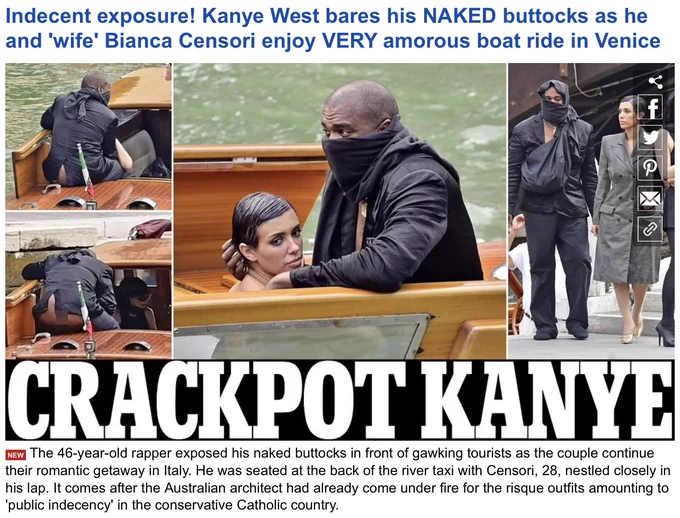 Kanye and Bianca on a boat ride in Italy ?? pic.twitter.com/iNLFKwvsw0

— yzyupdates (@yzyupdates) August 28, 2023
We have some news tonight about Yedolf the glorious leader of the Christian nationalist movement and the savior of the White race.
Petty Nationalists on suicide watch. pic.twitter.com/slo06WO3kN

— MarkBrahmin?? Orthodox Apollonian (@MarkBrahmin) August 26, 2023
This is what a fed op looks likepic.twitter.com/DtDfDKHbsT

— Vector Logo File (@Wild_West_Art) August 27, 2023
Beware the Ralphacurse! @TheRalphRetort pic.twitter.com/DhnHQ0CRmy

— Perspicacity (@SpeckPer) July 17, 2023
https://t.co/JUEeXQpZwi pic.twitter.com/DGKSa57tta

— Vector Logo File (@Wild_West_Art) August 29, 2023
Tucker Carlson embrace vicarious nationalism and nostalgia in Hungary. In the U.S., he promotes fragmentation, madness, and violence.

In the same week, he's fondly described Hungary as American as apple pie. Back home, he asks Trump, "They're gonna kill your, right? Why… pic.twitter.com/bpU7CkuYpv

— Richard Spencer (@RichardBSpencer) August 27, 2023
Anti-White Latino, Nick Fuentes, declares war on poor white people.

"F*ck the white man with no dollar" pic.twitter.com/FI2nKKv8Zg

— Jaden McNeil (@JadenPMcNeil) August 28, 2023
Nick Fuentes screaming he is being lynched is quite comical.

Just 18 days ago he was saying he wanted to team up with Hitler and lynch a black man for littering in his neighborhood. FOR LITTERING!

Now that's lynching Nick Fuentes. Thanks for the clip @RightWingWatch https://t.co/XpAmGrukTc pic.twitter.com/NRClYXzoIL

— Kino Queen'O (@KinoQueenO) August 20, 2023
WATCH one of Nick's donors says that he is a grade school teacher and that Nick was right that he is ATTRACTED to the underaged girls that he teaches??? Nick says "maybe you will find your wife there" among the children this man is entrusted with. DISGUSTING pic.twitter.com/HpNPOI4iBl

— Yin (@yin_sah) August 28, 2023
WATCH Nick says that "Based" Brandt, who painted his nails for the recent rally, brought his Barbie dolls and a pink drink to watch the Barbie movie. pic.twitter.com/FTzKQrDmHi

— Yin (@yin_sah) July 26, 2023
Greg Conte = Comedy gold! pic.twitter.com/10SyDDFcLU

— Colin Liddell (@cbliddell) February 17, 2023
The mainstream conservative movement has in the past few years, managed in some critical ways to actually exceed the dissident right subculture in articulating and advancing the dissident position. https://t.co/VsMywq7r7B

— Matt Parrott (@MatthewParrott) August 27, 2023
"What Tucker said, …but with white identity and naming some more names" is closer to my politics than whatever exotic, fevered, sweaty bullshit is coming from most major altright voices.

— Matt Parrott (@MatthewParrott) August 27, 2023
Striker routinely carries on against smalltown America as a diseased and derelict cesspool of fentanyl junkies whose culture and identity should be opposed and defeated rather than repaired and redeemed. He's openly hostile to the White American identity.

— Matt Parrott (@MatthewParrott) August 27, 2023
And then there's Spencer. Not even worth relitigating that buffoonery.

— Matt Parrott (@MatthewParrott) August 27, 2023
So true.
Matt Parrott nailed it.
Parrott has also moved on from the Alt-Right.
Twenty years ago, I would have identified with the Alt-Right. Ten years ago, I would have still identified with the Alt-Right. Even five years ago, I would have still been on board. Today, I don't know exactly where I fit into rightwing politics, but increasingly it is not with these people. The boundary between mainstream and dissident rightwing politics has radically shifted in recent years.
As I have said before, the history of the Alt-Right can be divided into three phases. There was the edgy vanguard stage before Trump's victory in the 2016 election when conservative liberalism was much stronger than it is today. The True Cons like Jonah Goldberg ruled the roost in those days. National Review, The Weekly Standard and Commentary defined the conservative movement. It was a world of gatekeepers that kept the vast majority of our ideas out of respectable conservative politics.
The second phase was the Trump presidency. Donald Trump succeeded in toppling and discrediting the old conservative establishment, but he didn't replace it with anything except a cult of personality. It was the age of QAnon. Conservative gatekeepers lost most of their former power. The organized Alt-Right movement cracked up after Charlottesville and withered away. At the same time, Tucker Carlson began building up a mass audience and mainstreaming Alt-Right ideas on his FOX News show. While Trump flailed around and squandered his presidency, Tucker redefined boundaries of conservatism.
The third phase has occurred under Joe Biden. Trump voters were radicalized by COVID, the George Floyd riots and 2020 election. The vast majority of them still believe it was stolen from Trump. The Biden presidency has further radicalized Trump voters. Tucker Carlson has continued to redefine the boundaries of conservatism with both the concepts of demographic replacement and anti-Whiteism entering the mainstream. Conservative liberalism has come under sustained attacked from within the conservative movement itself and has largely been rejected. The old Republican establishment has shrunk to a disaffected rump of around 10% of Republican voters. Alt-Right figureheads have also faded away due to personal flaws or because so much of what used to be edgy is now mainstream.
Back in 2019, Groypers descended on Turning Point USA events to ask people like Charlie Kirk and Matt Walsh what were then provocative questions like "how does gay sex help us win the culture war"? Today, no one talks more about gay sex and transgenderism than Matt Walsh. Charlie Kirk and Matt Walsh now deplore the Great Replacement and anti-White discrimination. Meanwhile, it is Nick Fuentes who surrounds himself with a weird entourage of homosexuals like Black Swan, Jon Miller and Sneako. Fuentes has been reduced to playing the clown and saying things like Hitler was epic to get a reaction because Turning Point absorbed his old talking points and critique and made it their own.
Here are some topics which used to be firmly confined to the "alt" or "dissident" sphere:
The Great Replacement / demographic replacement
Anti-Whiteism
HBD
Christian nationalism
Black-on-White crime / racial double standards
Foreign policy isolationism
Industrial policy / Protectionism
Immigration restriction
Mass deportations
Secession / National Divorce
Anti-feminism
Illiberalism
Nationalism
Populism
Reactionary politics / The Cathedral
White identity politics (increasingly so)
Nearly everything which used to define the Alt-Right is part of our politics now. The biggest exception is the Jewish Question but awareness of that too seems to be growing largely thanks to Jonathan Greenblatt. Everyone understands now the connection between Jewish power and censorship.
So, where does this leave the Alt-Right in 2023?
It has exposed the fact that different groups of people were attracted to dissident politics for different reasons. There were contrarians like, say, Richard Spencer whose main thing was always defining himself against the mainstream Right. As the mainstream Right has changed its tune on all of these important subjects, Spencer has changed in response. David Frum and Anne Applebaum are based now. Neoliberal globalism is awesome now. Transgenderism and abortion are eugenic because conservative Christians are opposed to it. 90% of Republicans want to restrict immigration. Spencer doesn't care about the Great Replacement. As Parrott says, it is not even worth relitigating this sort of buffoonery. You could just as easily create a bot that would spit out Spencer's latest hot take on the news of the day.
Nick Fuentes and Andrew Anglin are another example of this. While I agree that Oliver Anthony was boosted by Benny Johnson & Co. and that the people who say he was astroturfed have a point, he is also singing about being on the verge of World War III or turning off the television, which are themes the Alt-Right focused on for decades. He says that he wrote Rich Men North of Richmond about the politicians from both parties who are owned by their corporate donors. He was complaining about our fake politics and our rigged system. Why exactly is it a problem that this resonated? Is this not true?
Anglin has written a big diatribe about how Oliver Anthony is a white trash loser and how poor White people are a grotesque monster race. Is that the dissident position?
A plea for attention
Contrast Anglin with Gregory Hood.
Less than a year ago, Nick Fuentes and Andrew Anglin were insisting that Kanye West was the savior of the White race. I have more in common with Oliver Anthony who seems to be just a normal guy from Virginia with populist politics than these suburban manlets screaming about beating up and raping women.
What the hell was this?
Then there is TRS.
What in the world is going on there?
TRS has simply vanished off my radar since they moved to Telegram.
Earlier this year, Greg Conte resigned from the National Justice Party. Conte posted a big screed against party leadership which culminated in the Horst Wessel Lied. My impression is that those guys are trying to recreate the NSDAP or something. It is like Nick Fuentes going around saying that Hitler was awesome. Is that all that is left of the Alt-Right or Dissident Right these days? Is it out of gas?
Last December, I wrote about how I have watched the movement go through this cycle at least three times over the past twenty years. White Nationalism 1.0, the Alt-Right and America First all ended up doing the George Lincoln Rockwell trolling on a street corner shtick. When that predictably ends in disaster, someone new comes along and launches the next optics / need to go mainstream phase. So far, that hasn't happened yet since AF crashed and burned. Maybe it is because it is unnecessary?
My point is that being a "dissident" clearly doesn't mean today what it meant twenty years ago, ten years ago or five years ago. It is in flux. Umbrella terms have outlived their usefulness. As Matt Parrott says, "It's easy to believe, upon being unfairly thrown in the trash, that everything else in there must also be unfairly discarded. A lot of what's in the wastebin of our society is indeed trash."
I burst out laughing at that line.
That is very true. It is what provoked me to write this article. The trash bin has been picked over and most of what was valuable and unfairly discarded is no longer in there.
Don't get me wrong. There are plenty of people who still identify with the Alt-Right or Dissident Right who are doing valuable work. Their work is increasingly influential. It is the contrarians, the edgelords trolling for a reaction, the people crippled by nostalgia who seem to be exhausted. They don't seem to know what to do now that most of their old act and legitimate grievances have been coopted.